Giving a Face to air pollution

Aera is a planetary-conscious conversational interface that lives across existing social media and daily use platforms, unlocking new ways to engage and understand air pollution and its effects at various scales. The platform essentially turns 'air' into a character that you can talk and interact with, which we called Aera. Aera's communication is carefully designed to be engaging and fun, so people actually enjoy interacting with her. In this way, we are not just simply translating complex data into visuals, but creating an engaging and approachable way that fits within people's lifestyles, rather than taking a more didactic and informational approach.

Aera is designed to leave space for interactions to evolve from simple engagements that connected Aera's background story and daily habits to, in later stages, connecting individuals with each other, forming a wider system, and building capacity for action, which Aera helps direct and support. Her background story and character development is based on the formation and evolution of the earth's atmosphere, from 4.543 billion years ago until today.

How can citizen-based data collection as well as new technologies enable democratized enviromental action?Can giving vocie, even a face, to complex data let us relate to the air we breath?


Role
Lead designer, conceptual strategist
Team
Elena Habre
Daniela V. Sanzhez
John Wilkinson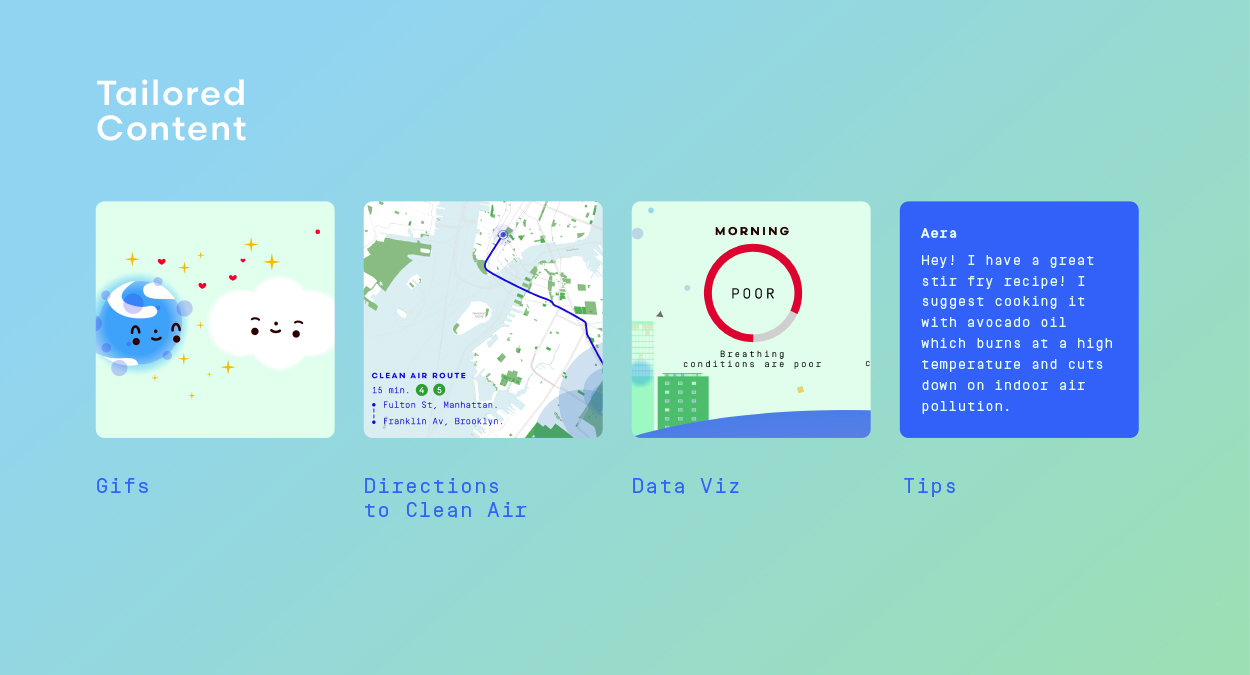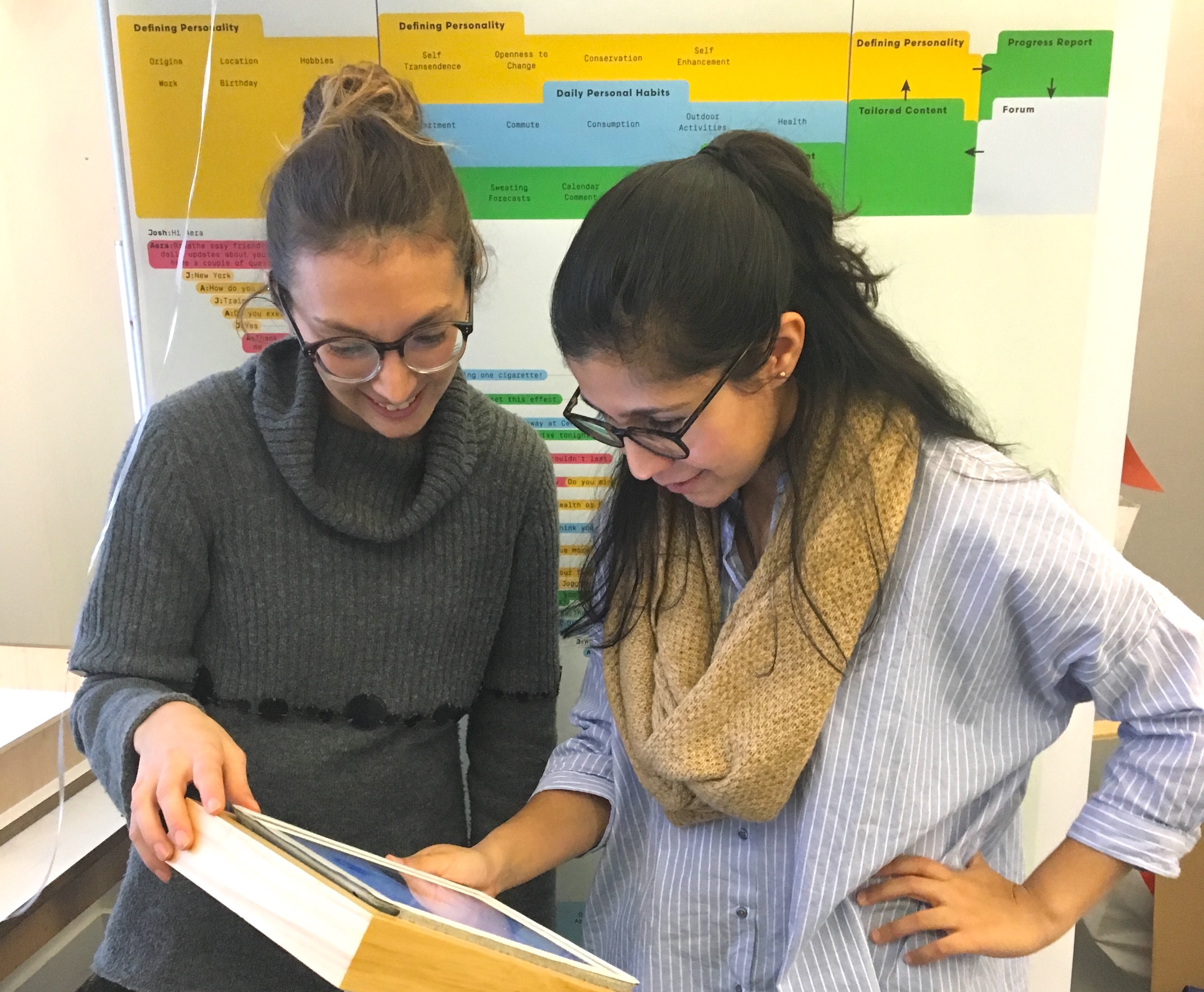 The Challenge
We were faced with the task of exploring the potential roles of individual citizens vis-á-vis the impacts of climate change in the decades to come. In particular, the aim was to look at the potential correlation between individuals' access to more knowledge about the local environment and subsequent behavior changes towards more sustainable practices and lifestyles.
Focusing on New York City, we felt it was necessary to bring pollution within the context of daily life for individuals.
Through extensive research, we realized that while vast data visualizations, personal weather like devices, and information existed on the topic, pollution was still an invisible topic that lived separate from the public's daily life and preoccupations.
Partnering with NASA Earth, we then turned to behavior science and design to help get pollution data into the hands of citizens so that they could take action in everyday life.
To do this, we asked,
How might we help connect complex data from NASA (satellites: Tempos, Chronos) on "invisible" pollution to everyday life?
How might we use our dependency on technology and social media to create behavior change and awareness? (rather than create a new app, use the existing system)
Connects

Aera pulls data from several sources, connecting it with applications that we use on a daily basis. Operating at various size and time scales, it takes conceptually big data and breaks it down into moments of meaningful engagement. Based on the system we designed it is easy to add new data sources and connect with new engagements. In this way, we designed Aera to evolve, giving space for new partnerships for new data and new community groups to leverage it for positive change.
Aera has the potential for vast impact due to her complex yet powerful architecture. Aera defines the citizen's personality based on the Schwartz Theory of Basic Values. Through regular value questions as well as sentiment analysis Aera learns how to motivate the person specific to how they view the world. Different people are obviously motivated in different ways, using this theory we have design Aera to tailor its content to be most effective. Aera is designed to develop environmentally conscious and community engaged citizens based on the motivations of the individual and their daily habits and hobbies. To do this, Aera delivers tailored content to create impact at two levels:
Personal: through awareness, tips, nudges for individual behavior change. Aera is constantly learning about you, and how to positively affect you by leveraging your daily habits, your understanding and relationship with air.
Political: Aera keeps a person informed about decisions which are being made that will affect their air quality, whether it is the building of a new factory, for voting to pass a new law, or simply staying informed about your local community.
Informed by

Desk Research:
The first question we posed ourselves was: how will we communicate and have access to data in the year 2018? Looking forward to when NASA's satellites launch in 2018 and then in 2020, we are predicting that conversational interfaces will come to define our personal device experience. Frog Design predicts that 2017 will be the year that business bots begin to thrive. Researchers at Gartner predicts "by 2020, smart agents will facilitate 40 percent of mobile interactions, and the postapp era will begin to dominate." From big players like Amazon to small like our favorite Poncho, we saw that this foreseen bot revolution has already begun. We researched what makes these bots successful, and applied those features to Aera. Poncho is a weather chatbot that we've been studying. Filled with adorable gifs, it gives weather a face. Its humor makes you care about weather in ways you never thought. We modeled some of Aera's interactions off of these.
User / Backend Research:
To design the back-end of Aera, we studied the use of persuasive technologies for behavior change, particularly the work of BJ Fogg. Our final design was a combination of the Fogg Behavior Change Model, which outlines how people get committed to behavior changing technology and the Knapp Relationship Building Model which frames how our relationships with people evolve over time. Aera builds a user profile of hobbies and then tailors content specific to the person's wants and needs based on what motivates them. All of this is delivered in a fun and entertaining way.
In addition, we have studied the Swartz Theory of Basic Values to define the citizens' personality. Different people are obviously motivated in different ways, using this theory we have design Aera to tailor its content to be most effective.
Stakeholder Research:
We have conducted several interviews and background research with NASA specifically with the Lead Designer and Head of Chemistry and Dynamics Branch at NASA Langley Research Center, the Mayor's Office of Recovery and Resiliency in New York, the Community Robotics, Education and Technology Empowerment Lab (CREATE Lab) at Carnegie Mellon, the Director of Environmental Health at WE ACT for Environmental Justice, The Director of Green Thumb at NYC Parks and the Director of NASA's Ozone Bioindicator Garden Project. As well as having showcased Aera at Oxford University at 'The Climate Imaginaries of The Arts and Humanities'. As we built our first prototypes we tested them with NASA Langley Research Center and the Create Lab to iterate and evolve the project. This is still an ongoing process for us until we launch Aera.
Impact
Aera connects individuals to their local environment, notifying users of the status of air pollution around them, creating greater awareness of that pollution. Furthermore, the conversational interface creates a platform for behavior change by helping nudge users to be better actors, using entertainment and personality traits to ultimately build capacity for transformation into more sustainable practices and lifestyles. As NASA's data on pollution increases and machine learning gets better, granting Aera greater capacities, the interface can be increasingly impactful. We envision a future where Aera could guide not just personal evolution, but perhaps collective political actions and larger social change. If Aera can connect people on a date our hope is someday it can start a movement.